Today a user of my app Week View 8 sent me an email that there is another app with the same name in the windows phone store. I checked this and it's true – there is a pirated version of Week View 8 in the windows phone store.
I installed it on my phone to 'test' it – it is a rather old version (2.5.1) for windows phone 7.x. The current version of Week View 8 ist 8.7.1.
The app tries to show adds. In the about page of the app still my (!) support email adress shows up and meanwhile I am getting error reports from users that are using this illegal version, most likely because they do not even know, that it is a pirated copy of my app.
Please do not use this illegal version – it is rather old, has bugs and does not support WP8 features like the real Week View 8 app does. Of course it does not get updates and support too.
Pirated version of my app, do not install: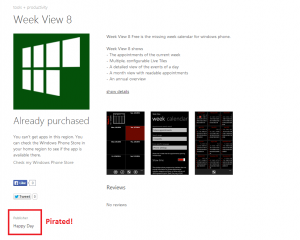 I already sent a support ticket to microsoft to report the copyright validation. I hope the pirated version will be removed from windows phone store soon.
The original, "real" most recent version of my app can be found at Week View 8