Nokia started rolling out the 'Lumia black update' today. One of the interesting additions in my opinion is the option to add "app folders". This feature is enabled by the 'Lumia black update' and needs to be installed as a separate app from the windows phone marketplace: App Folders
This app allows you to group simiar apps together and place a folder for them on your phone start screen. I installed the app on my lumia 1520 (which already contains the black update) and created some screenshots.
Here is, how the app looks like after creating 2 'folders'
This is, where you can add apps and games to a 'folder' inside the app
I created 3 groups, called 'photo' and 'navigation' and 'settings'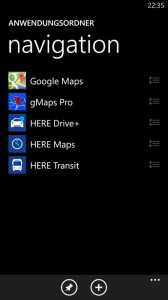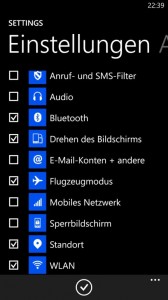 Two interresting things
You can also add your games to a folder. The games are not shown in the 'list of apps' when you swipe left on your phone.
You can add shortcuts to bluetooth, screen rotation, connection settings, …
This is how folders look on you phone start screen (3 folders in the middle of the screen)
A nice way to group apps together. What I personally don't like that much: When you tap on the pinned folder tile, the app starts and shows this list of apps in this group again.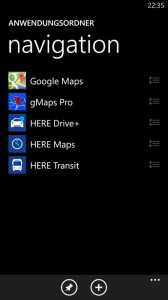 I would have prefered a more deeply 'integrated' approach here – some kind of  'zoom in' animation that shows the live tiles of the apps in the folder, allowing you to 'zoom out' by hitting the back-key on your phone.
I guess that's not possible at the moment since this would be a major change in the bahaviour of the start screen, maybe I also only need some time to get used to the 'app start' approach. 🙂