Recently i got some emails and bad marketplace ratings for my app Week View since appointments from google calendar show up as "private appointments" after the last update.
I have been investigating this problem and it turned out this this has nothing to do with Week View or any other calendar app. This problem was introduced in the GDR2 update of windows phone where the synchronization with google calendar has changed.
You can find more about this problem in the web for example at: http://www.ijsmblog.com/2013/08/microsoft-gdr2-update-for-windows-phone.html
The GDR2 update – which Nokia is bundling with its Amber update for Lumia phones – includes a change of method for Google sync. Instead of using its own ActiveSync method for syncing contacts and calendars, Microsoft has been forced to use the CalDAV and CardDAV systems preferred by Google.
An interresting thread can also be found at a microsoft developer forum: http://social.msdn.microsoft.com/Forums/wpapps/en-US/b61b302d-94a3-4725-a3ba-a1ed49dde557/after-gdr2-appointmentssearchasync-doesnt-return-google-calendar-events
Another limitations of the windows phone programing interface is: It does not return details for private appointments. This makes no sense in my opinion since the private appointments are shown in the windows phone built in calendar – why not return them for all calendar apps?
Please vote for the feature at: http://wpdev.uservoice.com/forums/110705-dev-platform/suggestions/2325913-remove-appointment-isprivate-limitation
So finally appointments from google calendar are returned as "private appointments" and no details for private appointments are returned by the windows phone programing interface the result is: No details for google appointments are returned by the programing interface for windows phone. 🙁
Solution
So what can be done to fix this and get your google appointments back in Week View?
Week View already uses direct access to you windows live calendar, if you sign in to windows live inside the app and allow it to do so. With this "direct access" Week View is able to bypass many limitations of the windows phone programing interface.
Using this workaround, Week View can return details for private/google calendar appointments. For this to work, you need to subscribe to your google calendar inside your windows live calendar.
At first, please go to the web interface of your windows live calendar and select "Import"
On the next screen, select "Subscribe"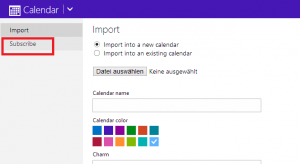 Now open another tab in your browser and go to the web-view of your google calendar.
Here go to settings – calendar and select your google calendar.
You need to get the private address or "private url" of your google calendar – click on "ICAL".

This shows a dialog, where you can select and copy the private url of your google calendar. It' something like https://www.google.com/calendar/ical/….calendar.google.com/private-…/basic.ics
Copy this address and paste it to the field "Calendar URL" in the other tab, where your windows live calendar is opened.
Finally click on "Subscribe".
This subscribes to your google calendar from your windows live calendar.
Your google calendar appointments are now shown inside your windows live calendar and this allows Week View to read appointments from your google calendar by reading them from your winwos live calendar. 🙂
I tested this myself and it worked and I also got feedback from other users that it works. I know that this is a bit more complicated than it should be and 2 companies like MS and google should be able to define a common appointment format or use an existing one (!) for data exchange but at the moment we have to live with this.