As written, my app 'Daily Activities' went live in the windows phone store today. So some promotion might be a good idea. 🙂
Beside from posting about it on my blog and in a Swiss windows phone forum, where I also asked people to help me with beta testing, I wanted to try something new (for me): Using the windows store tools for an app campaign!
This is what I did and I will tell about my experience and its progress on my blog.
In the windows phone store a developer can submit apps, check the downloads of it's published apps and also select "promote your app".
When doing so, you get redirected to a site, where you can create an app campaing, this is how it looks like.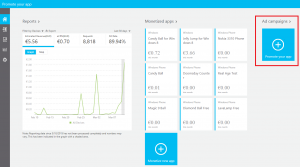 You can see your apps/games that use advertising (show ads) and also select "promote your app". Sidenote: Wow, I am making a lot of money with my games, about 5€ per month. 🙂
When you select "promote your app", you get to this page:
The app icon and screenshots were loaded automatically, when I entered the link to the app in the windows phone store. Additionally you can change the colors of the design a bit.
It seems that 100.000 ad impressions per month cost the developer $40. Hmm, ok I will give it a try…but I also have to enter my credit card number which made me think about this a second time.
About 2 months ago I registered for the "dev center benefits" program, which is accessible from DevCenter.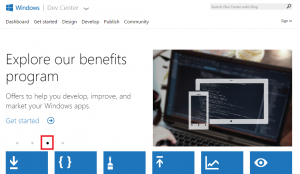 Here you have to specify an app (I used Week View), which is evaluated and depending on the evluation you get access to the "Explorer", "Expert" or the "Master" program. I got granted access to the master program. 🙂
Part of this are some benefits – guess that's the reason why it's called "dev center benefits". The "1 million ad impressions with AdDuplex" seems very interesting for what I am trying to do, so I redeemed this offer.
As a result, you get a code, which you can use to buy "ads" for an ad-campaign in AddDuplex, a well known advertising provider for windows phone.
After creating an account with AdDuplex, signing in and selecting "New camaping"
…I created a logo for the ad-campaign and entered some text, all very straight forward.

Finally you have to buy ad-space, the same thing as in MS pubCenter as shown above. This is the space, where the ad-banner of your app is shown in other apps (for which developers have chosen to show ads).
WOW – now this is really cool – the 1 million ad impressions I got from dev center benefits are worth $990.
Finally I selected a daily budget of $10, which resulted in estimated daily impressions of 10.101. I also selected an end date of the campaing, some categories (the ad is shown in other apps in this category) and as a platform I selected windows phone 8.1.
The last one is important: Since Daily Activities only runs on windows phone 8.1 devices I guess it makes no sense to show ads for it on the older windows phones. 😉
The screen said "pending activation" and a tooltip above was saying that the campaign is validated and will be activated in 24-48 hours.
It will be interresting what will happen next and I will tell you. 🙂
If you see an ad of Daily Activities in another app, be fast, make a screenshot of it and send it to me! …and of course also click on it and install Daily Activities. *g*