Sometimes i get emails with the suggestion: "Please add a graphical representation of the current week to 'Week View', like the one that MS Outlook has".
While i agree that a graphical week view like outlook makes sense on a large pc/notebook/tablet screen i don't think it's a good idea on a smartphone display.
I want to compare the view of the current week of my app 'Week View' with another app that uses a graphical week representation so you can judge yourself.
This is how a week is visualized in 'Week View' (please click on the image to enlarge it):
My goals for creating the 'week view' were
Provide a clean, easy to read view of your appointments
The text of all appointments should be readable
A user should see all appointments of the week, without the need for scrolling
If you have more appointments that overlap in time (for example from a shared calendar)  they should both be readable
Allow the user to see 'free time' between his appointments. This can be done in the 'small week overview' on the top, left side
Support for portrait and landscape view (the screenshot is in portrait view)
View details with 1 tap (simply tap on the appointment to see it's details)
This is the 'portrait view', a 'landscape view' is supported too of course. By tapping on a 'day' you get to a 'day view' where you can see details from the appointments on this day or add/edit/delete appointments.
Now lets look at an app that uses a graphical representation, like outlook does. There are some of them in the marketplace, i have chosen 'VsysCalendar WP8' for this comparison.
Here is, how a graphical representation of the same week looks like in 'VsysCalendar WP8':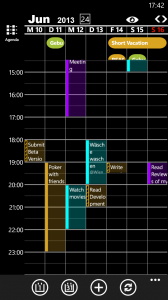 Important: This is only a comparison of a graphical week view with the view that is used by 'Week View'. This is not a comparison of 2 apps.
In my personal opinion the graphical week view has some disadvantages
Not all appointments of the current week are visible, for example all appointments that start before 2pm are not visible on the screenshot
The user has to scroll up and down to see all appointments of the current week
The all day appointments are not completely visible
The subject text of the appointments is truncated. This gets even worse, when overlapping appointments exist, like on the screenshot below.
Can you see your appointments here? 😉
(This screenshot is NOT from 'Week View')
So this is the reason why at the moment creating a graphical representation of the current week is not a high priority task for me. If you have a different opinion or other suggestions, please let me know! 🙂